I received this book for free from Edelweiss in exchange for an honest review. This does not affect my opinion of the book or the content of my review.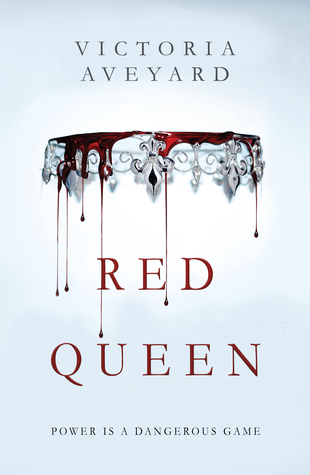 Red Queen by Victoria Aveyard
Series: Red Queen Book One
Published by HarperTeen on February 10, 2015
Genres: Fantasy, Young Adult
Pages: 383
Source: Edelweiss
Goodreads


Amazon •
The poverty stricken Reds are commoners, living under the rule of the Silvers, elite warriors with god-like powers.



To Mare Barrow, a 17-year-old Red girl from The Stilts, it looks like nothing will ever change.

Mare finds herself working in the Silver Palace, at the centre of
those she hates the most. She quickly discovers that, despite her red blood, she possesses a deadly power of her own. One that threatens to destroy Silver control.

But power is a dangerous game. And in this world divided by blood, who will win?
I don't know how most people will feel after reading this book but I liked it.  I first heard about on Epic Reads last year, I was like sign me up and especially after it was described as "X-men meets Game of Thrones."
The book starts off in a world where people with silver blood that have special abilities and rule the land.  People with red blood are norms and do all the work for the silvers.  It is the basic story of the have and the have-nots.  Those power use fear to keep those with out in line.  Then Mare Barrow gets a job at the palace and by accident it is discovered that a red-blooded servant girl has the same abilities has the silver nobles.  Thus, the queen hatches a plan to claim her as a long-lost daughter of silver general and marry her to the younger prince.  That is how Mare finds herself playing a game of treachery.
While the story is something I have seen before.  I liked it because it was full of twists and turns.  I was kept guessing just like Mare until the very end.  Since, she is a red, Mare sides with the rebels.  For the sake of her family she has to play the game with Silver Queen.  Mare doesn't know who to trust and finds herself playing a game with deadly consequences.
While I didn't love this book, like it was the latest episode of The 100, I did like this book.  It was highly entertaining and I am looking forward to see where the series is headed.  I am giving this book four stars because it had an ending that I didn't see coming and kept me on the edge my seat.  I was literally biting my nails because it was so intense.  I liked that Mare can kick some butt when her back is up against the wall.