I received this book for free from Publisher in exchange for an honest review. This does not affect my opinion of the book or the content of my review.
This review contains spoilers. Read at your own risk.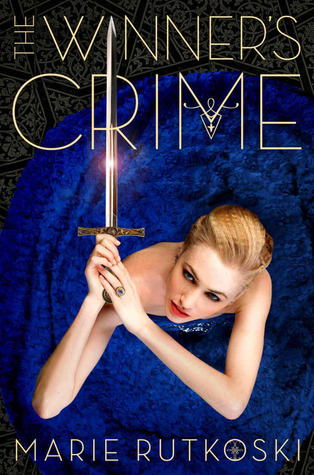 The Winner's Crime by Marie Rutkoski
Series: The Winner's Trilogy
Published by Farrar Straus Giroux on March 3rd, 2015
Genres: Fantasy, Young Adult
Pages: 417
Source: Publisher
Goodreads

Book two of the dazzling Winner's Trilogy is a fight to the death as Kestrel risks betrayal of country for love.

The engagement of Lady Kestrel to Valoria's crown prince means one celebration after another. But to Kestrel it means living in a cage of her own making. As the wedding approaches, she aches to tell Arin the truth about her engagement…if she could only trust him. Yet can she even trust herself? For—unknown to Arin—Kestrel is becoming a skilled practitioner of deceit: an anonymous spy passing information to Herran, and close to uncovering a shocking secret.

As Arin enlists dangerous allies in the struggle to keep his country's freedom, he can't fight the suspicion that Kestrel knows more than she shows. In the end, it might not be a dagger in the dark that cuts him open, but the truth. And when that happens, Kestrel and Arin learn just how much their crimes will cost them.
Not gonna lie, when I found this in my mailbox I cocked my head and squealed about the pretties. Then I questioned why it was in my mailbox. Did I sleepily enter a giveaway? Don't they usually email you first? It didn't even show up on the UPS tracking because it was one that got shuttled over to USPS before delivery. So, honestly it was a wonderful surprise.
I did question the cover, because is that a sword? Is it supposed to be her dagger? It's too short for a sword and much too long for a dagger. I know they extended it to fit the empty space, via design, but it made the implement itself nonsensical. Poor photoshop tends to make my husband point out glaring errors, and that's exactly what happened. Now I can't unsee them. I mean the cover for the first one has her dagger and its dagger sized. Why is this one so long?
I only just so-so liked the first one, quite the black sheep compared to the hype surrounding it. All the problems I had with the first book are no longer evident in the second. This was a much stronger installment and I have to admit that I really enjoyed it. I'm not yet jumping up and down and climbing the walls like some of my acquaintances, but overall, I feel much warmer towards and interested in the series as a whole.
The beginning of the book was a little slow, I'll admit – mostly reiterating plot from the previous installment, both in forms of flashbacks and explanation. Arin himself recalls poignant scenes from the first novel, though from his point of view. This is the main meat of most of his beginning chapters, and I thought with horror that that was going to be the case through the whole book. Luckily, that changed once the plot started ramping up.
Kestrel lives in the palace now, set to marry the prince, per her negotiations with the Emperor. One of her first plot filled scenes involves her witnessing the torture of a Herrani spy. He shouted informative riddles at her, despite getting the skin of his fingers flayed. And well done, Ms. Rutkoski for using such poetic and colorful language in a way that made me absolutely want to vomit. I have never seen flowery language used in such a precise, stomach clenching blow. That description alone will give me nightmares.
Despite the violent beginnings, the book continues in much the same way Game of Thrones does, with overhanded gestures, blackmail, and threats. The wedding planning continues and they have oodles of parties to attend. Arin and his spymaster come to the palace on invitation, dealing with all the prejudice and scorn. Kestrel is both elated and dismayed to see him, as the feelings inside her war and clash. They do this will they won't they dance throughout the rest of the book, and it eventually leads to Kestrel's demise.
There's a few new characters that I'm actually really into. The spymaster, Tensen, I don't remember from the first book if he was in there, plays a prominent role in the second. He convinces Kestrel to be a spy for him and so the plot thickens and continues. Kestrel eventually learns of awful things that the Emperor is planning, leading her to throw off her veil of secrecy and caution, which eventually gets her caught and imprisoned.
The other new characters are Easterners, treated poorly by the empire, their sister is a ward of the Emperor. They attempt to govern their little nation with much vigor and violence. Small infractions have dire punishments. I assume this is to keep everyone in line and to keep foreigners out. Arin flees the Emperor's palace and travels to the East to meet with their leaders, in order to find an ally for the Herrani. What he finds are twin brother and sister, the brother, Roshar, was someone he had met during his time as a slave.  Arin remember's clearly that Roshar was punished for being and escaped slave, a punishment which meant that his ears and nose were cut off. Roshar uses the severe disfigurement in his favor, using it to garner fear in his disciples. He works on a set of Dread Pirate Robert principles, claiming that he will soon kill Arin, and describing the myriad of ways in which he could accomplish this. This elevated him quickly to my favorite character in the series, he and his sister have a lot of potential within the overarching plot.
Most of the rest is drama, except for the point when Arin designs a working but absolutely abysmal handgun. Overall, it was interesting, because there was always the overarching thread from the Emperor over every action. Characters would suddenly show up dead for minor infractions and there was always a feeling of danger for everyone involved.
Top notch second installment. Can't wait for the third!