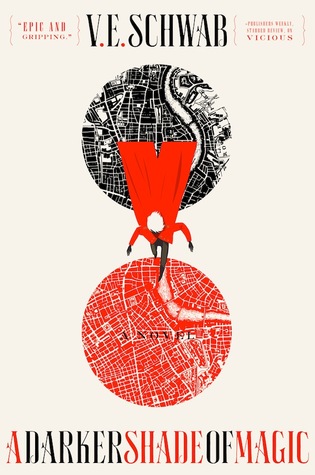 A Darker Shade of Magic by V.E. Schwab
Series: A Darker Shade of Magic #1
Published by Tor Fantasy on February 24th, 2015
Genres: Adventure, Fantasy
Pages: 400
Source: Purchase
Goodreads

Kell is one of the last Travelers—rare magicians who choose a parallel universe to visit.

Grey London is dirty, boring, lacks magic, ruled by mad King George. Red London is where life and magic are revered, and the Maresh Dynasty presides over a flourishing empire. White London is ruled by whoever has murdered their way to the throne. People fight to control magic, and the magic fights back, draining the city to its very bones. Once there was Black London - but no one speaks of that now.

Officially, Kell is the Red Traveler, personal ambassador and adopted Prince of Red London, carrying the monthly correspondences between royals of each London. Unofficially, Kell smuggles for those willing to pay for even a glimpse of a world they'll never see. This dangerous hobby sets him up for accidental treason. Fleeing into Grey London, Kell runs afoul of Delilah Bard, a cut-purse with lofty aspirations. She robs him, saves him from a dangerous enemy, then forces him to another world for her 'proper adventure'.

But perilous magic is afoot, and treachery lurks at every turn. To save all of the worlds, Kell and Lila will first need to stay alive — trickier than they hoped.
I absolutely hate when I'm done with a V.E. Schwab book. All I want is to revel in her words all the time forever and ever. It's really hard for me to read her books quickly because I absolutely love everything about them. I love the nuance of phrasing, the characters, the plot, the world building. It's disappointing when I have to meander through other books after that high. I have found myself yearning for more. She honestly gives me a book hangover, and it is both the best and worst thing ever.
While I didn't enjoy A Darker Shade of Magic as much as I enjoyed Vicious, I feel that it was more that I didn't latch on and love the characters nearly as much. Don't get me wrong, the characters are great, but they didn't resonate in that same place in my heart and if they did, it wasn't nearly as strongly.
The world building of this book is phenomenal. It offers a concept I've seen executed both well and poorly, alternate universes. Four distinct and different universes with different geography and cultures, all somehow coincidentally named London (I bet there's also Gin and Tonic). Think about the main points as being stacked together like sheets of paper. Grey London, a world lacking in magic, except as a fairy tale, is by all means, the one that could possibly be our world. It's also the one that the Buzzfeed quiz gave me. Thanks Buzzfeed, glad to know that I'm not at all interesting or undead!  It holds one of our main characters, Delilah Bard, a petty thief, working her way up the ladder of notoriety and boldness in her thievery. Really, what she wants is to be a pirate. She want's to buy a ship and go plunder and be awesome. I'm totally into that. That would be amazing. I hope the next book incorporates that, and you know, the hints that she's probably also a magical traveler. I'm pretty sure she is, with the eye thing and the being able to walk through dimensions business. Like girl, really, what happened to your eye?
The next London on the stack is Red London, our other main character, Kell is from here. He constantly travels the dimensions, possibly looks like Eddie Redmayne, has a magic coat that flips into other coats (though, finding anything in the pockets of that would be awful), and has a soft spot for music boxes and clockwork mechanisms. Do not take Kell to a Steampunk convention, he would flip his lid. His London is full of magic, everyone has it to varying degrees and varying ability levels. When his magical abilities were found, he was taken to the castle and became the ward of the King and Queen. He has some feelings about that, because yes, the royalty did assimilate them into their household as a show of power and prosperity, and although he is technically property, they attempted to at least treat him with the dignity and respect any relative in their household deserved. The only person he isn't unsure about is the prince, Rhys, with whom he'd go to the ends of every Earth to save. They have an easy friendship and a brotherly love.
Stacked above Red London is White London, which is a problem. White London is home to people who have magic, but are losing magic at the same time. They scramble for magic like an addict to their next hit, and the same goes for power. The ruling power in White London is a shifting thing, offered to whoever is strong enough to take it and held only as long as they keep their purchase. Within White London, there is another traveler, Holland, a man who is magically bound to the will of the twin rulers and compelled to do whatever they command. I'm unsure of Holland's motives, he seemed complex at the end, but most of what he does is standard henchman fare. It's very unfortunate.
The last London on the stack is Black London, and I'm still not sure what's in there. Like, no one goes there, and it's super blocked off and it caused a lot of problems. The story really starts when Kell ends up with a relic from Black London, one that is pure magic, viral. There's almost no way to control it, so Kell must go on a journey to banish it back from whence it came. There's a few parts shenanigans, some treachery, and some epic battles.
Overall, it was great. I can't wait for more. Perhaps I'll have to pick up her Young Adult series to tide me over till the next book comes out.