I received this book for free from Netgalley in exchange for an honest review. This does not affect my opinion of the book or the content of my review.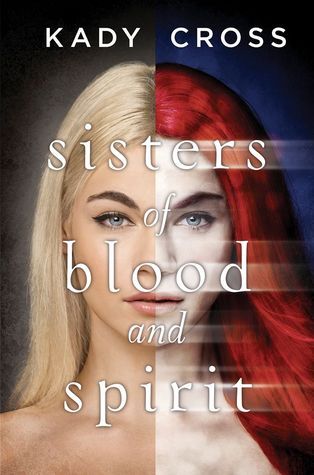 Sisters of Blood and Spirit by Kady Cross
Series: Sisters of Blood and Spirit #1
Published by Harlequin Teen on March 31, 2015
Genres: Fantasy, Paranormal, Romance, Young Adult
Pages: 288
Source: Netgalley
Goodreads


Amazon •
Wren Noble is dead—she was born that way. Vibrant, unlike other dead things, she craves those rare moments when her twin sister allows her to step inside her body and experience the world of the living.

Lark Noble is alive but often feels she belongs in the muted Shadow Lands—the realm of the dead. Known as the crazy girl who talks to her dead sister, she doesn't exactly fit in with the living, though a recent suicide attempt and time in a psych ward have proved to her she's not ready to join her sister in the afterlife.

Now the guy who saved Lark's life needs her to repay the favor. He and his friends have been marked for death by the malevolent spirit of a vicious and long-dead serial killer, and the twins—who should know better than to mess with the dead—may be their only hope of staying alive.
I liked this book just okay. It was an entertaining read full of action and spooky times. It was kind of slow in parts and easy to put down. It was one those read's that I am glad I read but it didn't keep me riveting to my chair wondering what would happen next. Just as they compare themselves to the Scooby Gang, the story was pretty much like an episode of Scooby Doo, you can watch knowing the good guys will win in the end so you feel pretty safe letting Scooby Do run in the background while you do the dishes. For me, Sisters in Blood and Spirit is a three star read that gets a shrug and a nod because I didn't hate but I didn't "OMG LOVE IT" either.
Sisters of Blood and Spirit is about two sisters named Lark and Wren. They are twin but there is ordinary about these twins because one is alive and the other was born dead. The starts months after Lark tried to kill herself to be with her sister. The boy who saved her, Mace and his friends are trouble. The kind of trouble that involves a malevolent ghost out for blood and only Lark and her sister Wren can help. Lark agrees to help because she feels like she owes Mace for saving her life when she almost ended it. Lark and Wren with the help of the others team up to find the ghost and burn his bones. Along the way Lark and Wren find out more about themselves and that maybe they special in the ghostly community as well as the mortal plane.
I liked the story it was interesting. This idea of twins being connected and even death can't keep them apart. I even liked that the story was told in alternating point of views. I liked getting a peak into the ghostly realm called the Shadow Lands through Wren's eyes. I liked getting to see what it was like to kick ghost butt through the eyes of Lark. I know this book will be a series because there a lot story set up, unanswered questions, possible love triangles and of course a monster of the week. I will probably read the next book because I think that now that most of the story set up is complete the series will be even more entertaining.