It Takes a Witch by Heather Blake
Series: A Wishcraft Mystery
on January 3, 2012
Genres: Fantasy, Mystery, Paranormal
Pages: 309
Source: Audible, Purchase
Goodreads


Amazon •
Darcy Merriweather and her sister, Harper, hail from a long line of witches who have the power to grant wishes using spells. They've come to Enchanted Village in Salem, Massachusetts, to join the family business, but they soon find themselves knee deep in murder...

Until three weeks ago, Darcy and Harper were working dead-end jobs and trying to put their troubles behind them. Then their aunt Velma delivered a bombshell: They're actually Wishcrafters - witches with the power to grant wishes with a mere spell. Wanting a fresh start, they head to their aunt's magic-themed tourist town to master their newfound skills.

But their magic fails them when a wannabe witch turns up dead - strangled with Aunt Ve's scarf - and Ve's sweetheart, Sylar, is found looming over the body. Ve is standing by her man, but Darcy overheard Skylar wish that the victim would disappear - forever. With Harper distracted by her handsome new crush, Darcy is determined to sleuth her way to the truth. But it'll take more than a wish to unravel this mystery....
I always think cozy mysteries are like Scooby or Nancy Drew mysteries for adults. It is a light who done it full of mystery and odd ball characters.
It Takes a Witch is no exception to this rule. On top of Darcy being a Wishcrafter she now has to help her aunt's boyfriend and clear his name of murder. Darcy sets out to do some sleuthing of her own when the police can come up with no more suspects.  While I thought the mystery itself was easy to solve as well some of the "shocking revelations" it was the setting that made this book. This is not the first Heather Blake cozy supernatural mystery I have read/listened to and it won't be the last. I like her way with world building. I like the small town full of eccentrics. Enchanted Village is not just full of eccentrics it is a town full of witches. I like how the title of the magic user is based on their power. Witches that can grant a wish are called Wishcrafters, witches that can heal are called Curecrafters, and so on. Darcy is a Wishcrafter and finds herself in all kinds of scrapes because she is new to witchcraft. That is how she finds herself in a tutu, hugging a wombat, and healing a marriage. While there were shenanigans and sleuthing abound, I liked Darcy herself because she is kind and really does only want to help people. I think I will like the second book even better because there was a lot set up in this story.
Did I mention that some witches have familiars? Think Salem in Sabrina the Teenage Witch.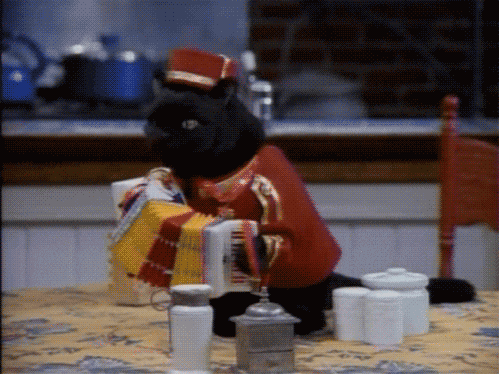 The familiars are spirts in the bodies of animals. I couldn't get enough of the cute mouse that was actually a tailor.
The narrator, Colleen Marlo, did a pretty good job making the story and characters come to life. Some of the Boston accents were a little strong but I am from the south so that could just be me. I have already got the next audiobook downloaded and look forward to more cozy supernatural mysteries in the Enchanted Village.