I received this book for free from Publisher in exchange for an honest review. This does not affect my opinion of the book or the content of my review.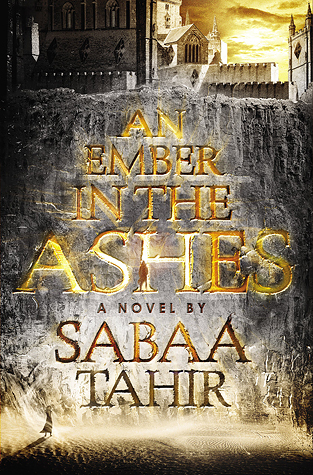 An Ember in the Ashes by Sabaa Tahir
Published by Razorbill on April 28th, 2015
Genres: Fantasy, Young Adult
Pages: 443
Source: Publisher
Goodreads

Set in a terrifyingly brutal Rome-like world, An Ember in the Ashes is an epic fantasy debut about an orphan fighting for her family and a soldier fighting for his freedom. It's a story that's literally burning to be told.

LAIA is a Scholar living under the iron-fisted rule of the Martial Empire. When her brother is arrested for treason, Laia goes undercover as a slave at the empire's greatest military academy in exchange for assistance from rebel Scholars who claim that they will help to save her brother from execution.

ELIAS is the academy's finest soldier—and secretly, its most unwilling. Elias is considering deserting the military, but before he can, he's ordered to participate in a ruthless contest to choose the next Martial emperor.

When Laia and Elias's paths cross at the academy, they find that their destinies are more intertwined than either could have imagined and that their choices will change the future of the empire itself.
Oh, my goodness. I'm so glad that I got this from First Reads. I rolled around on the floor for awhile and then found that their download site was all broken. But everything worked out in the end, because I still got a hold of this beauty and let me tell you, it was such a good read. I'm not sure what I was expecting, but it certainly lives up to the hype.
There is so much happening in this book. There are elements of magic, desertion, usurping, spying, cults, mythical creatures and pretty much anything else you can think of. It weave together quite well into a fine piece of storytelling, but where do I even start writing this review?
The setting, overall was different and intriguing. I'm told it's supposed to be a fantastical Rome, but, overall, perhaps I don't know much about Rome? Or, the elements of Rome captured were only in essence? I don't know. I didn't really see it.
Our main characters are from totally different paths and despite this being a dual point of view book, and despite having some romantic friction, the main characters do have other love interests and function with their loins outside of the construct of the standard YA novel. I found that interesting and refreshing, that despite the manic pixie dream girl aspect of our main character's relationship, they overall found other people attractive and interesting.
Now into the meat of it- Laia is one of the lower class, conquered people living in their Empire. Her brother is arrested for treason and the rest of her family is slaughtered within the first few chapters. What she then does is contacts the small, disjointed, and currently not influential resistance. Her parents happened to be leaders of it at one point, before their capture and subsequent execution, so she attempts to garner their help and sympathy with that aspect.  Regardless of debts owed and allegiances that once were, she is told that they'd only help her if she became a spy-slave for the local Military Academy, being placed as the servant of one of the higher ranking and sadistic officers, the Commandant.
Elias is super good at being a soldier. He's also the Commandant's bastard, abandoned in the desert baby. That's bound to cause a lot of strife. He and his best friend have had each other's backs through their entire training. The training itself is brutal. Many of the tests include death for failure and they were young children through most of it. Through thick and thin they've worked with each other and Elias is starting to have more complicated feelings for her. Despite this, he still is expecting to desert at the first opportunity. He doesn't want to become a Mask and have the living metal bind to him so closely he can never take it off. He doesn't believe in what they stand for and he wants to go forge his own path.
In come the Augurs. They're the head of the school and they are also all seeing and all knowing. It doesn't explain why this is, it just is. They know that the Commandant is up to something, and they're trying to twist the strings of fate back to their favor.
So, I've mentioned the Commadant a couple times. She's awful. She cuts people's faces and stabs them in the eye on her sadistic whim. Overall, she's not a good person and she's pretty much the main antagonist in this whole book. I actually worried for characters under her strict rules and I'm glad that the author didn't follow the GRRM rules of writing. It was still super stressful.
The Augurs announce that it's time to have a bunch of trials to pick the new Emperor. Funny thing about that is that the old one is neither dead nor dying. Whoops. It's fine though, because they're pretty much in charge anyway. They've got the trained from childhood to be ruthless army behind them. Elias and his best friend are set to compete. Two of the four competing seniors get to be the Emporer and his second in command. The other two die. And so the trials begin.
I'm not really going to yell about the amount of rape and mentions to rape in the book because I feel like others have done it and done it better than I could. Just know there's a lot.
There reaches a certain point in the book, super close to the end where I thought everything was going to turn out awful. To be fair, it only turned out satisfactory. It was still super engrossing and satisfying. I hope that it sells well enough that the publisher buys more, honestly. I really do. It was breath of fresh air in an otherwise overdone landscape. Though, honestly, it wraps up nicely as a stand alone, as well.