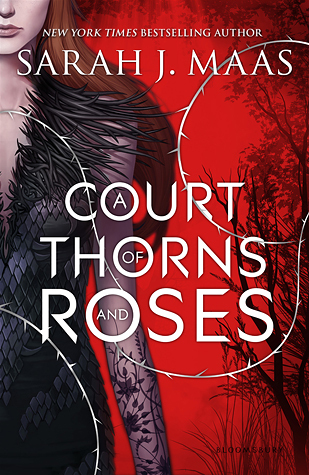 A Court of Thorns and Roses by Sarah J. Maas
Series: A Court of Thorns and Roses #1
Published by Bloomsbury Publishing USA on May 5, 2015
Genres: Fantasy, Romance
Pages: 416
Source: Purchase
Goodreads


Amazon •
A thrilling, seductive new series from New York Times bestselling author Sarah J. Maas, blending Beauty and the Beast with faerie lore.

When nineteen-year-old huntress Feyre kills a wolf in the woods, a beast-like creature arrives to demand retribution for it. Dragged to a treacherous magical land she only knows about from legends, Feyre discovers that her captor is not an animal, but Tamlin—one of the lethal, immortal faeries who once ruled their world.

As she dwells on his estate, her feelings for Tamlin transform from icy hostility into a fiery passion that burns through every lie and warning she's been told about the beautiful, dangerous world of the Fae. But an ancient, wicked shadow grows over the faerie lands, and Feyre must find a way to stop it . . . or doom Tamlin—and his world—forever.

Perfect for fans of Kristin Cashore and George R. R. Martin, this first book in a sexy and action-packed new series is impossible to put down!
Last year I became a big fan of Sarah J Maas and this book just reiterates all the reasons why. I loved loved loved A Court of Thorns and Roses. I read this book in one day it was just that good. I have feeling this review is going to be short and sweet or will turn into nothing but the ramblings of a fangirl.
A Court of Thorns and Roses is about a girl that kills a wolf but unwittingly that wolf is a Faerie and she must pay the price of killing a Faerie. That is how Feyre becomes an unwilling house guest of Tamlin a High Fae Lord. The story takes off from there as Feyre must learn how to live the dangerous land of the Fae. She discovers that something is causing a blight on the magic and endangers of all creatures: Faerie and human. As time goes on, you guessed it, Feyre develops feelings for her beastly high fae lord. She must also find out what or who is causing the magical blight because only Feyre can stop it.
Even though this book is basically a high fantasy retelling of Beauty of Beast. It still has that SJM flair because Feyre is a strong kickass heroine. Words cannot express how much I loved her character by the end of this book. This book was not about a damsel in distress. It was about true love. It was about a woman taking a stand and fighting for what she loves. This book was sexy, downright scary at times, full of nail biting action, and I loved every minute of it. This was book was so so good. I can't say anymore without giving too away so just go read this book!!!!!!