I received this book for free from Edelweiss in exchange for an honest review. This does not affect my opinion of the book or the content of my review.
This review contains spoilers. Read at your own risk.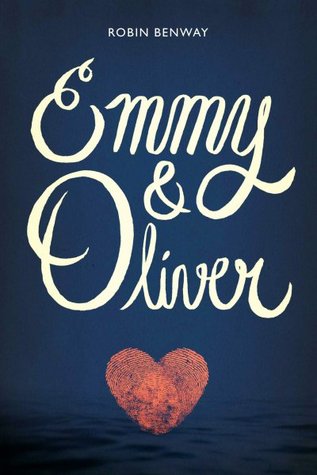 Emmy & Oliver by Robin Benway
Published by HarperTeen on June 23, 2015
Genres: Contemporary, Young Adult
Pages: 352
Source: Edelweiss
Goodreads


Amazon •
Emmy's best friend, Oliver, reappears after being kidnapped by his father ten years ago. Emmy hopes to pick up their relationship right where it left off. Are they destined to be together? Or has fate irreparably driven them apart?

Emmy just wants to be in charge of her own life.

She wants to stay out late, surf her favorite beach—go anywhere without her parents' relentless worrying. But Emmy's parents can't seem to let her grow up—not since the day Oliver disappeared.

Oliver needs a moment to figure out his heart.

He'd thought, all these years, that his dad was the good guy. He never knew that it was his father who kidnapped him and kept him on the run. Discovering it, and finding himself returned to his old hometown, all at once, has his heart racing and his thoughts swirling.

Emmy and Oliver were going to be best friends forever, or maybe even more, before their futures were ripped apart. In Emmy's soul, despite the space and time between them, their connection has never been severed. But is their story still written in the stars? Or are their hearts like the pieces of two different puzzles—impossible to fit together?
When I finished this book it was with thoughts of hope. I think that is what I liked best about this book, because it was about hope. Hope that Oliver would come back after being kidnapped by his dad. Hope for Emmy because she wanted her parents let go and let her live her life. Hope that everyone could be able to, after ten years, move past something so terrible.
Emmy & Oliver is about two teens that reconnect and find love after one of them, Oliver, is kidnapped. Everyone expects Oliver to just fall right back in with his mom. His mom has remarried and has little kids. Emmy reconnects with Oliver because they used to be best friends when they younger. Now they are seventeen and no longer children. They talk, laugh, and become more than just friends.
I really like that it not just about Emmy and Oliver but about their other friends as well. Emmy accepts Oliver back into her life without even batting an eyelash because she has in a way been waiting on Oliver to return. It takes more time for her other friends to welcome him back. I liked that this book showed how a crime can still effect people years and years after the act was committed. That is what makes this story about hope because it is about putting the past in the past and letting go.
I liked that Emmy gets accepted to a college two hours away. This book was about Emmy letting go and leaving Oliver. I liked that there is that feeling at the end that will always find a way back to each other because they are meant to be. I am giving Emmy & Oliver four stars because it is a quick read and very feel good story.