I received this book for free from Netgalley in exchange for an honest review. This does not affect my opinion of the book or the content of my review.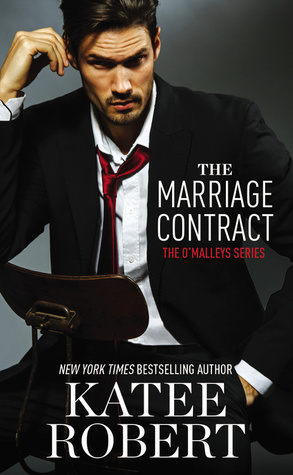 The Marriage Contract by Katee Robert
Series: O'Malleys #1
Published by Forever on June 2, 2015
Genres: Contemporary, Romance
Pages: 368
Source: Netgalley
Goodreads


Amazon •
Teague O'Malley hates pretty much everything associated with his family's name. And when his father orders him to marry Callista Sheridan to create a "business" alliance, Teague's ready to tell his dad exactly where he can stuff his millions. But then Teague actually meets his new fiancée, sees the bruises on her neck and the fight still left in her big blue eyes, and vows he will do everything in his power to protect her.

Everyone knows the O'Malleys have a dangerous reputation. But Callie wasn't aware just what that meant until she saw Teague, the embodiment of lethal grace and coiled power. His slightest touch sizzles through her. But the closer they get, the more trouble they're in. Because Callie's keeping a dark secret-and what Teague doesn't know could get him killed.
This book took a little while for me to get into the story. In the end, I ended up liking this book. I have come to realize after reading The Marriage Contract is that I am becoming a fan of Katee Robert. I like her style of gritty action, hot sexy fun times, and humor. While I may not have connected to Callie and Teague right away, I did like the side characters.
The Marriage Contract is about two people tied to the mob underworld in Boston. Callie Sheridan thinks she is just going to the strip club to check out her potential husband of convenience. When she gets there she finds him in bed choking a stripper, and then he mistakes her for the one the girls that works the club. Then things go from bad to worse when she has to shoot and kill him. This leads her father to broker a new deal and Callie is promised to marry Teague O'Malley. The leader of the Halloran family isn't happy his son is dead and the heirs to his two rival families are marrying. He declares war and everything goes from bad to worse.
I liked this gritty world of bad men, mobsters, and a life of no escaping it. I will go back to a famous mob reference that everyone knows, just like in The Godfather, one can dream of escaping the family but in the end there is no escape. That is how it feels for Teague and his family. That it really feels for most of the children in all three families. I have to say the thing I really liked was the lead in to the next book with the heir of the Halloran family and Teague's little sister. It will be interesting to see if everyone is still fighting when the heir to the families have all paired up. Let's face it, this romance and we know they will so I am not spoiling anything. The thing I like about romance novels, Katee Robert's included, is the path that the gets them from hating each other to happily ever after.
It may have taken a while before I was on board with the path this book was taking. I liked it in the end. I am really looking forward to reading the next book in the O'Malley series. I am giving The Marriage Contract four stars. Now pardon me while I go splash my face with some water because this book was hot, hot, hot.