The Mistake by Elle Kennedy
Series: Off-Campus #2
Published by Independent by Author on April 28, 2015
Genres: Contemporary, Romance
Pages: 297
Source: Amazon, Purchase
Goodreads


Amazon •
He's a player in more ways than one…

College junior John Logan can get any girl he wants. For this hockey star, life is a parade of parties and hook-ups, but behind his killer grins and easygoing charm, he hides growing despair about the dead-end road he'll be forced to walk after graduation. A sexy encounter with freshman Grace Ivers is just the distraction he needs, but when a thoughtless mistake pushes her away, Logan plans to spend his final year proving to her that he's worth a second chance.

Now he's going to need to up his game…

After a less than stellar freshman year, Grace is back at Briar University, older, wiser, and so over the arrogant hockey player she nearly handed her V-card to. She's not a charity case, and she's not the quiet butterfly she was when they first hooked up. If Logan expects her to roll over and beg like all his other puck bunnies, he can think again. He wants her back? He'll have to work for it. This time around, she'll be the one in the driver's seat…and she plans on driving him wild.
I read this book in one day because I liked it so much. I liked the humor, the heart break and, of course, the sizzling chemistry this book has to offer. I like when big sexy confident athletes give the babbling sometimes socially awkward girl a chance. There is something to be said for a guy that smiles and laughs when a girl is babbling about charming serial killers in the first five minutes of meeting him. I like a guy that will jump through some major hoops like writing a love poem, taking a sexy pic on red velvet chaise lounge and even dying roses blue. I couldn't help but sigh and give a little swoon of happiness when I got to the end of The Mistake. Then again I am sucker for romance and happily ever afters.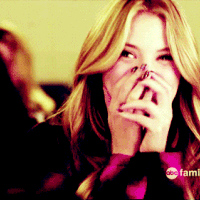 The Mistake is the second book in the Off Campus series and stars Logan a friend of the couple, Garret and Hannah, from the previous book. The book starts off with Logan thinking he is hung up on Hannah. He goes to this party at a dorm only to knock on the wrong door and that is how he meets Grace. He messes everything when he tells he can't be with her and she was just a distraction. Of course, that is pretty a crappy moment and Grace never wants to speak to him again. Logan comes to the conclusion even after months have passed by that he wants Grace back. She is not going to make it easy because he has to make up for "The Mistake."
I may have read this plot over and over, boy meets girl, and boy screws it up, girl make boy work to get her back. I don't know how Elle Kennedy managed it but she made this plot line fresh and full of humor. There were parts of this book that I actually laughed out loud and my hub would look at me like I was crazy. Let's not forget about the sexy fun times because this book had chemistry coming off the pages. I loved Grace and Logan's dynamic. It was sexy, full of heart, and I loved that Grace made him work for it. I also really liked Logan and his roommates. I liked all the guy humor. Those four hockey players are rude, crude and but also have each other's back. I am giving The Mistake four stars because Grace and Logan are so charming. I can't wait to read the next book in the series when another playboy hockey player meets his match.