I received this book for free from Netgalley in exchange for an honest review. This does not affect my opinion of the book or the content of my review.
This review contains spoilers. Read at your own risk.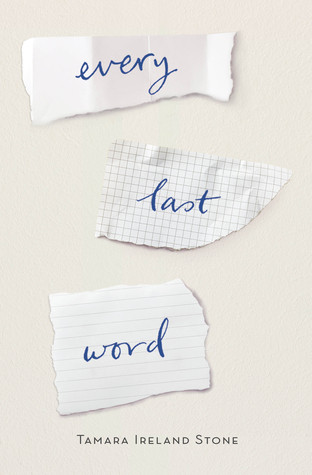 Every Last Word by Tamara Ireland Stone
Published by Disney-Hyperion on June 16, 2015
Genres: Contemporary, Young Adult
Pages: 368
Source: Netgalley
Goodreads


Amazon •
If you could read my mind, you wouldn't be smiling.

Samantha McAllister looks just like the rest of the popular girls in her junior class. But hidden beneath the straightened hair and expertly applied makeup is a secret that her friends would never understand: Sam has Purely-Obsessional OCD and is consumed by a stream of dark thoughts and worries that she can't turn off.

Second-guessing every move, thought, and word makes daily life a struggle, and it doesn't help that her lifelong friends will turn toxic at the first sign of a wrong outfit, wrong lunch, or wrong crush. Yet Sam knows she'd be truly crazy to leave the protection of the most popular girls in school. So when Sam meets Caroline, she has to keep her new friend with a refreshing sense of humor and no style a secret, right up there with Sam's weekly visits to her psychiatrist.

Caroline introduces Sam to Poet's Corner, a hidden room and a tight-knit group of misfits who have been ignored by the school at large. Sam is drawn to them immediately, especially a guitar-playing guy with a talent for verse, and starts to discover a whole new side of herself. Slowly, she begins to feel more "normal" than she ever has as part of the popular crowd . . . until she finds a new reason to question her sanity and all she holds dear.
I loved Every Last Word! This book was one of those reads that put me through the feels ringer and I loved every minute of it. I cried, I smiled, and I cheered. I was just going to read a couple of chapters on Sunday but before I knew it was three p.m. and I had read the entire book. It was just that good that I could not put it down. Now I am about to explain why I liked this book and there might be spoilers. I don't want to put any down but I can't explain some of feels without them so from this point on: it is read at your own risk.
Every Last Word is about a girl named Samantha and she is one of the most popular girl in school. She hangs out with the popular girls. Only dates the popular boys. Every day her makeup, hair and clothes are immaculate. Samantha has a problem though: she is OCD and is full of anxiety. She has thoughts she can't control like sometimes they tell to her park her car on the number three on her odometer. Sometimes she has bad thoughts that scare her like telling to take the scissors and cut her friend's hair off. With the help of her mom and her therapist she has been able to control these thoughts and hide them from her friends. Samantha doesn't want to be part of the popular and sometimes mean girls anymore. It is the cattiness and the feeling like she can't be herself that is causing these thoughts and the anxiety to get worse.
One day Samantha meets this girl named Caroline. She befriends Caroline. Caroline takes her down to a secret room in the school were kids meet to write poetry and read to in a non-judgmental environment. She has to apologize and atone for past sins. She has to put her feelings out for this group to see and hear. It is in this group that Samantha becomes Sam. Sam is a girl that: doesn't care what anybody thinks, writes heartfelt poetry, hangs out with cool people that don't judge, wants go to college on a swim scholarship, she wants to fall even more in love with her new boyfriend A.J.
I think I loved this book because I could relate to Sam. It has been a couple of years since high school but the pressures you face there are same even out in the job force. It is the pressure to fit in and be the best. I know it causes stress, panic attacks and ulcers. There is nothing wrong with seeing a therapist because mental health is just as important as physical health. I loved seeing the transformation of Samantha to Sam because I think sometimes we as individuals put too much stock into being like everyone else. I loved when Sam's therapist tells her about a patient that could hear colors. How amazing his mind is because of it. It is okay to be unique. How amazing and boring it would be if all of our minds work the same way.
The part of the book that broke my heart was when the truth about Caroline is revealed. It is revealed to Sam to that Caroline is not a real person. Sam kind of goes through this dark depression because she thinks she is going crazy. Because what sane person make up whole other person. She made up someone that was: quirky, sarcastic, accepting, and a fun loving poet. She made up the girl that she wished she could be. I literally had tears streaming down my face right along with Sam as she cried for the best friend that only existed in her head. I mean that is some good writing there when the author has me crying for a character that was made up because I had come to love her just as much as Sam.
I am giving Every Last Word thumbs up and five stars.  I can't tell you enough how amazing this book is, so go read it.  I fell in love with Caroline and my heart broke for Sam too. I cheered Sam on as she healed. I cheered her on even more as she finally took a stand with her popular friends. She stopped worrying so much about what others thought because she had new friends that accepted her OCD and all. I loved that she was able to open her heart up and find love with A.J. There is nothing better than the feeling of finding good friends and loved ones that will accept you for who you are quirks and all.