I received this book for free from Netgalley in exchange for an honest review. This does not affect my opinion of the book or the content of my review.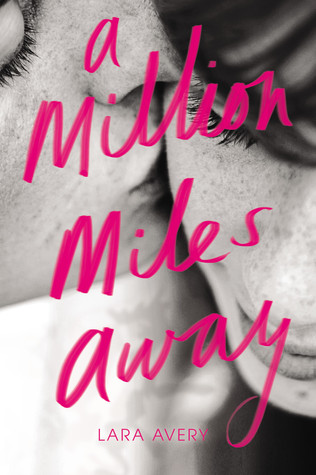 A Million Miles Away by Lara Avery
Published by Little Brown Books for Young Readers on July 7, 2015
Genres: Contemporary, Young Adult
Pages: 320
Source: Netgalley
Goodreads


Amazon •
When high school senior Kelsey's identical twin sister, Michelle, dies in a car crash, Kelsey is left without her other half. The only person who doesn't know about the tragedy is Michelle's boyfriend, Peter, recently deployed to Afghanistan. But when Kelsey finally connects with Peter online, she can't bear to tell him the truth. Active duty has taken its toll, and Peter, thinking that Kelsey is Michelle, says that seeing her is the one thing keeping him alive. Caught up in the moment, Kelsey has no choice: She lets Peter believe that she is her sister.

As Kelsey keeps up the act, she crosses the line from pretend to real. Soon, Kelsey can't deny that she's falling, hard, for the one boy she shouldn't want.
I liked parts of this book but there were parts I didn't like. It wasn't the best book I have read or the worst. It was just okay. I think I was just looking for something a little bit more. I am giving A Million Miles Away three stars and it was just a meh and shrug kind of book.
I know I am going to say this and shocker when I say it but I wish there was a bit more angst. A bit more drama. The girl pretended to be her dead twin sister for almost a whole year to her sister's boyfriend in the military. I think after a while he knew deep down but it wasn't like him and Michelle had known each other that long before he got shipped off. They are both desperate to hang on to something or anything to get them through the tough days they both have to face. I mean his friend guessed it right away when Kelsey Michelle's sister goes to Paris pretending to be Michelle. This might be a spoiler to the story but come on the plot has to lend a hand in that he is going to find out but it is what he does with that info that matter. He doesn't find out until the story is 3/4 of the way over. I mean I was like come on and figure it out but then he doesn't and Kelsey can't bring herself to him because now she went and fell and love. I mean the whole thing is strung out way too long and cleaned up way too fast. I mean if I found out this chick had been lying and then I saw her heartfelt apology and I knew deep down it was her I loved, I still think it would have taken more than couple of weeks to get over it.
I think for me what saved the story from a two star read was because it is actually about a girl trying to heal after her sister goes out to drop Pete off at the airport and gets into an accident on the way back. I thought the grieving and the healing by pretending to her sister she actually got to know who she had become. I liked the whole reconnecting after they grew apart part of the story. I just couldn't love or be some serious like with this book because I wanted so much more from the love story. The love story just felt like a distraction actually. It was rushed and there was definitely not enough angst for my taste. It was a couple of Video Chats, a ton of letters, one trip, a confession video, and a trip to his house to apologize in person. Then bam she's in love and then bam he won't speak to her and then bam he is back at her house asking if they can start over. Again, maybe it was just me, but I just wasn't feeling the romance. It felt way too rushed and while there was a connection it felt to me it was a little forced. The story of sister healing after something tragic was handled well and I liked that. The love story of a girl falling for her dead sister's deep feeling solider boyfriend left something to be desired.