Kaleidoscope Hearts by Claire Contreras
Series: Hearts #1
Published by Self Published by Author on January 20, 2015
Genres: Contemporary, Romance
Pages: 295
Source: Purchase
Goodreads


Amazon •
He was my older brother's best friend.
He was never supposed to be mine.
I thought we would get it out of our system and move on.

One of us did.
One of us left.

Now he's back, looking at me like he wants to devour me. And all those feelings I'd turned into anger are brewing into something else, something that terrifies me.
He broke my heart last time.
This time he'll obliterate it.
First let me say that I got this book out of my very first subscription box from The Bookworm Box. The Bookworm Box is a book subscription box that you order and receive once a month. The Bookworm Box was started by Colleen Hoover and other awesome people. The most awesome thing about The Bookworm Box is that all the proceeds after overhead costs go the charity of the month. When I heard about this book box I knew I had to sign up. The box is usually made up of adult contemporary romance novels. If that is not your thing then it probably isn't the book box for you. More and more lately I am starting to get into adult/new adult contemporary romance novels. I have to say I never even heard about Kaleidoscope Hearts until I received it in the mail as part of The Bookworm Box. I thought if this book was one of my surprise books for June I was going to give it a whirl.
Now I have read Kaleidoscope Hearts and I can honestly say I am glad I read this book because I liked it. It was a story about a woman dealing with loss and coming to terms with moving on with her life. A year ago Estelle lost her fiancé when he had a heart attack in the ocean. Now she is putting their house up for sale and moving in with her brother. She is still trying to keep the art gallery they opened together afloat. All of these are happening while Estelle is still in her late twenties. Estelle knows she is still young and even her fiancé's parents are encouraging her to move on. It is hard because Estelle loved her fiancé but it is the man who got away that she still seems to holding a torch for. She can't seem to stay away from the man that shattered her heart when she was only 20 because he is her brother's best friend Oliver. Now after all the heart ache, the separation, the engagement, the loss of a loved one it seems the stars are finally lining up for Estelle and Oliver to have a second chance at love.
Like I mentioned before, I liked Kaleidoscope Hearts because it had that perfect balance of angst and romance. I don't know really how to describe it but it just clicks for me a reader. I don't feel like the heroine is moving on to fast or the romance isn't real. This book just clicked. I especially liked the part when Estelle and Oliver agree to be models in the shoot for Estelle's best friend Mia. When they get there they discover Mia needs them to pose in their underwear on a bed. I think you know where I am going with this when I say it was full of pent up energies and so hot hot hot. It really made the chemistry explode.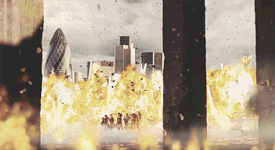 In the end, I am glad this book landed in my lap so speak because it was a quick and easy read. I am giving Kaleidoscope Hearts four stars. It was a book filled with loss, laughter and of course happy sexy fun times. I loved the meaning behind why Estelle makes Kaleidoscope Hearts out of broken glass. I really liked the idea that something made from broken pieces could be put back together to make something complete new and beautiful. That is the message I liked most about this love story because Estelle and Oliver picked up the broken pieces of their failed romance and put it back together to make a love that will last a life time.