I received this book for free from Netgalley in exchange for an honest review. This does not affect my opinion of the book or the content of my review.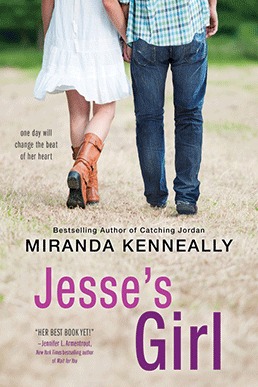 Jesse's Girl by Miranda Kenneally
Series: Hundred Oaks
Published by Sourcebooks Fire on July 7, 2015
Genres: Contemporary, Young Adult
Pages: 304
Source: Netgalley
Goodreads


Amazon •
Everyone at Hundred Oaks High knows that career mentoring day is a joke. So when Maya Henry said she wanted to be a rock star, she never imagined she'd get to shadow *the* Jesse Scott, Nashville's teen idol.

But spending the day with Jesse is far from a dream come true. He's as gorgeous as his music, but seeing all that he's accomplished is just a reminder of everything Maya's lost: her trust, her boyfriend, their band, and any chance to play the music she craves. Not to mention that Jesse's pushy and opinionated. He made it on his own, and he thinks Maya's playing back up to other people's dreams. Does she have what it takes to follow her heart—and go solo?
If you are like me and already a fan of Miranda Kenneally then you know that her books are super cute romances about following the heart and making dreams come true. With that being said I really liked Jesse's girl. What is there not to like about a sexy country music super star that sings songs about riding around on his big tractor?
    I really liked this book because it was an easy breezy read. I sat down and the book in less than five hours. The book has a super cheesy plot line but somehow it works. It is about Maya who wants to be a musician but she is still in high school. Her school has a shadow a professional for a day program. Most students end up saying they want to be a chef and end up shadowing the chef at the local steak house kind of thing. It just happens that the principal at Maya's school is the uncle to a young country music superstar named Jesse Scott. Jesse Scott is so popular that he has won three Grammys by the age of nineteen. Even though Maya is kind of a rocker chick, she still can't let the opportunity to shadow someone so talented at music pass her by so she agrees to meet and shadow Jesse Scott. They end up breaking the schedule planned and go on a Ferris Buller's Day Off kind of day. Meaning it is a whirl wind of events that includes: walking barefoot in a fountain, singing on a riverboat, playing in studio, and of course, stolen kisses. Like I said before the plot line is kind of, no scratch that, majorly cheesy. I liked how genuine and real the characters were. I especially liked how drama lite this book was. There was on moment when the drama came into play relationship wise but it was over pretty quick. I liked when Maya and Jesse decided to trust each other and make a go of it they did without looking back. Nothing annoys me more in a romance novel then when the couple kisses then one of them decides it will never work and leaves and this pattern goes on for pretty much the whole book. In a story where the odds are majorly stacked against them because Maya is a high school senior and Jesse Scott is a musician that travels all over world, there is trust because they genuinely care about each other. The think I liked the most about this book is that Maya is Sam's little sister. I really liked finding out what happened to my favorite female quarterback Jordan and her boyfriend Sam. I won't spoil any surprises that happen but I will say they always put a big smile on my face. I am giving Jesse's Girl four stars because it definitely filled me up with happiness and left me feeling easy and breezy.