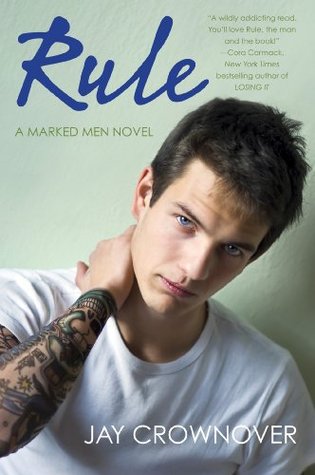 Rule by Jay Crownover
Series: Marked Men #1
Published by HarperCollins on May 17, 2013
Genres: Contemporary, New Adult
Pages: 432
Source: Amazon, Purchase
Goodreads


Amazon •
Shaw Landon loved Rule Archer from the moment she laid eyes on him. Rule is everything a straight--A pre-med student like Shaw shouldn't want--and the only person she's never tried to please. She isn't afraid of his scary piercings and tattoos or his wild attitude. Though she knows that Rule is wrong for her, her heart just won't listen.

To a rebel like Rule Archer, Shaw Landon is a stuck-up, perfect princess-and his dead twin brother's girl. She lives by other people's rules; he makes his own. He doesn't have time for a good girl like Shaw-even if she's the only one who can see the person he truly is.

But a short skirt, too many birthday cocktails, and spilled secrets lead to a night neither can forget. Now, Shaw and Rule have to figure out how a girl like her and a guy like him are supposed to be together without destroying their love . . . or each other.
I feel like this book has been on the top of to read pile for a while now. I don't know why I didn't pick it up. I am glad I did because in the end I liked it and I know there will be more men from the Marked series in my future.
Rule was a little hard for me to get into at first but I think that was because I picked up this book trying to get over a book hangover from the book I had just read. Once I got into this book and found the groove I ended up liking this book. Was Rule a ground breaking novel? No. Did it explore anything new in the world of romance and relationships? No. In real life, do you end up with the person you have been carrying a torch for as teenager? Probably not or maybe. What I did like about Rule was that it was a story about acceptance. It was about a family learning to accept and move past the death of one of their own. It takes place three after Rule's twin brother, and Shaw's best friend, goes to pick Rule up from after a night of drinking. He gets into car accident on the way there. From then Rule's mom blames him for her other son's death. Shaw has always been around so she has become a part of their family because her family is rich and political and want her to be something she is not.
Most of the time when I read a romance novel or any novel really, I am looking to escape for a few hours. I want a story that will sweep me off my feet and make my heart go a flutter. This is what I liked about Rule because it was sweet and very swoon worthy story about two people falling in love for the first time and learning to accept and not change what the other has to offer. It was a story about a girl that loved a boy half her life and one day he wakes up to see her. That is where the fairy tale ends because in real life relationships take work because it easy it fall into patterns and get wrapped up in your own lives. They both make mistakes and neither one of them is perfect. I know that Shaw will always have self-doubts and there will be times when Rule still acts like a grade A jerk but that is called life. This book is about learning curves. It a story about two people learning to make a relationship work because when they get it right it is oh so good.