I received this book for free from Netgalley in exchange for an honest review. This does not affect my opinion of the book or the content of my review.
Dragon Fall by Katie MacAlister
Series: Black Dragons #1
Published by Forever on July 28, 2015
Genres: Paranormal, Romance
Pages: 352
Source: Netgalley
Goodreads


Amazon •
YOU FLIRT WITH FIRE...

For Aoife Dakar, seeing is believing-and she's seen some extraordinary things. It's too bad no one else believes that she witnessed a supernatural murder at an outdoor fair. Returning to the scene for proof, Aoife encounters a wise-cracking demon dog-and a gloriously naked man who can shift into a dragon and kiss like a god. Now thrust into a fantastical world that's both exhilarating and terrifying, Aoife is about to learn just how hot a dragon's fire burns.

WHEN YOU DATE A DRAGON

Kostya has no time for a human woman with endless questions, no matter how gorgeous or tempting she is. He must break the curse that has splintered the dragon clans before more of his kind die. But his powerful attraction to Aoife runs much deeper than the physical-and there may be more to her than even his sharp dragon eyes can see. To survive the coming battle for the fate of his race, he needs a mate of true heart and soul . . .
I am big fan of Katie MacAlister's world of dragons since I read You Slay Me. I knew I would like the world of Dragon Fall but I think the ending fell a little flat.  I am giving Dragon Fall three stars because I liked it well enough.
Dragon Fall is the love story for Drake's brother, the love interest in You Slay Me, Kostya. Kostya has was held hostage for many years, then fell in lust with a naiad, and she left him for another male. Now a curse has fallen over the dragon clans. Kostya wakes up naked in with a woman and a retired doctor standing over him. Aoife (EE-fuh) witnessed a supernatural event two years ago and was admitted to a psych hospital. Now she is out and ready to get on with her life. She is runs down a big fluffy dog with her car and then finds a handsome on the beach behind her house. She takes the dog and the man to get checked out and ends up caring for a demon dog and dragon. So, the story takes off from there with everyone running around like chickens with their head cut off, running from evil red dragons and trying to break the curse.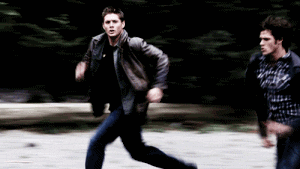 I liked seeing Kostya finally find his one true mate instead of with a flighty naiad. I liked the zany, downright silly world these people live in but I don't know how but this book just felt so rushed. I liked the quips and one liners. Jim is and will forever be my favorite character. That demon dog with a heart of gold will always have a special place in my heart. Man he cracks me up. I think Dragon Fall would have been better if didn't feel like you had to read the other books in the world to know what was going on.  I knew who all the characters were but it was very much a story that will be liked by fans of this world.  I liked that Aoife knew she would not give up on this broken man.  I felt the love story was wrapped up nicely but it would have been nice to have the curse business wrapped up and new problem for the new couple in the next book.