I received this book for free from Publisher in exchange for an honest review. This does not affect my opinion of the book or the content of my review.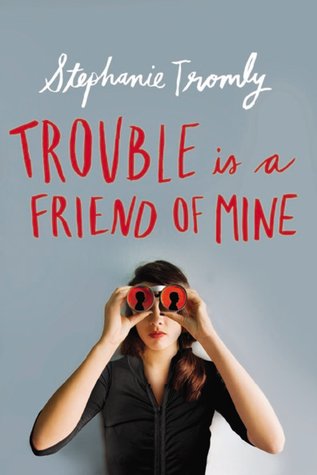 Trouble is a Friend of Mine by Stephanie Tromly
Published by Penguin on August 4, 2015
Genres: Mystery, Young Adult
Pages: 336
Source: Publisher
Goodreads


Amazon •
Preparing to survive a typical day of being Digby's friend wasn't that different from preparing to survive the apocalypse.

Her first day not in school (because she cut) in her new hometown that will soon be her old hometown (because she's getting out of Dodge as fast as she can) Zoe meets Digby. Or rather, Digby decides he's going to meet Zoe and get her to help him find missing teenager. Zoe isn't sure how, but Digby—the odd and brilliant and somehow…attractive?—Digby always gets what he wants, including her help on several illegal ventures. Before she knows it, Zoe has vandalized an office complex with fake snow, pretended to buy drugs alongside a handsome football player dressed like the Hulk, had a throw-down with a possible cult, and, oh yeah, saved her new hometown (which might be worth making her permanent hometown after all.)

A mystery where catching the crook isn't the only hook, a romance where the leading man is decidedly unromantic, a story about friendship where they aren't even sure they like each other—Trouble is a Friend of Mine is a YA debut you won't soon forget.
Sometimes I think you have to be the mood for the book you are reading.  At first when I started reading this book I thought it was going to be another Sherlock Holmes retelling and I guess I wasn't in the mood for it.  I was finally able to into the groove of this book and I ended up liking this well enough.  If Trouble is a Friend of Mine was a movie I would say I liked it but would recommend it as a rental. It was basically light fluff, good and decent but something you watch on Netflix when you just want to be entertained. I am giving Trouble is a Friend of Mine 3.5 stars because it was snarky, full of zany antics and a Scooby Doo gang like cast running around like chickens with their heads cut off.
Trouble is a friend of mine is about a new girl, Zoe, who moves to a small town in upstate New York. After coming from Brooklyn Zoe is not prepared for how hard it is to make new friends in a small town school that is very cliquish. Then Diggby comes knocking at her door and Zoe finds herself in the middle of Diggby's missing person sleuthing shenanigans. Diggby is pushy, self-centered, invasive and expects everyone to follow in line to his lead. As much a Zoe would like to tell Diggby to take a hike there is never a dull moment when you are Diggby's friend.
That is why I thought it would be a Sherlock retelling because the story is told from Zoe's point of view but Diggby is the star of the show. I think this book is more Sherlock meets Scooby Doo. By the end, Zoe and Diggby have teamed up with three other kids from school and they are all running around like crazy people trying to find out where this missing girl is. There are run ins with cops, sleazy gynecologists and even a meth lab. The book was silly fun and quite entertaining. If this book becomes a series I will probably read more because there is just something about Zoe and Diggby.