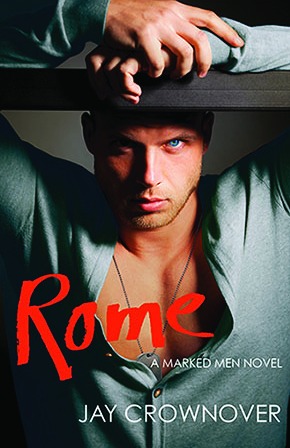 Rome by Jay Crownover
Series: Marked Men #3
Published by HarperCollins on January 7, 2014
Genres: Contemporary, Romance
Pages: 397
Source: Amazon, Purchase
Goodreads


Amazon •
Sometimes the wrong choice can be just right . . .

Fun and fearless, Cora Lewis knows how to keep her tattooed "bad boy" friends at the Marked in line. But beneath all that flash and sass is a broken heart. Cora won't let herself get burned again. She's waiting to fall in love with the perfect man—a baggage-free, drama-free guy ready for commitment. Then she meets Rome Archer.

Rome Archer is as far from perfect as a man can be. He's stubborn, rigid, and bossy. And he's returned from his final tour of duty more than a little broken. Rome's used to filling many roles: big brother, doting son, supersoldier—but none of those fit anymore. Now he's just a man trying to figure out what to do with the rest of his life while keeping the dark demons of war and loss at bay. He would have been glad to suffer through it alone, until Cora comes sweeping into his life and becomes a blinding flash of color in a sea of gray.Perfect may not be in the cards, but perfectly imperfect could just last forever . . .
It is official I am addicted to the stories of the men and women the Marked Men series. It was this book that sealed the deal. I liked Rule and Jet but, Oh Man, I really liked Rome. Rome is a moody ex-soldier trying to find a place for himself in civilian life. Cora is colorful, a loud mouth, and just wants to find her happily ever after. I liked this book so much because while it was moody and both characters could be jerks. I liked that were "perfectly imperfect" together.
Rome is Rule's brother from book one in the series. Cora is the office manager for the tattoo shop that Rule and some of the other guys work at. That is how Rome and Cora meet because they are thrown together at various events. Rome is moody mad at the world and full of PTSD. Cora is the spitfire that is not going to let him hurt her friends. The book begins with Cora pouring her beer on Rome's head after he says something very assholey. They can't stand each other but Cora goes and picks him from a drunken bender one and one thing leads to another. Before they even know what has happened they are making that happily ever after they both want work somehow.
I liked this book because I could relate it to it on some level. My own husband is almost two feet taller than me so I know how Cora feels when she talks about having to crane her neck to look at her man. I know my husband would take a bullet to protect my life. I think there is something to be said for finding a man that would lay down his own life for you. He doesn't have to be the perfect Prince Charming because that only exists in fairy tales but to find a man that wants to be there for you in the good times, the bad times, and the mundane day to day is priceless. I don't know how long I will be hold out before I pick up book in the series starring another member of group, Nash.