I received this book for free from Netgalley in exchange for an honest review. This does not affect my opinion of the book or the content of my review.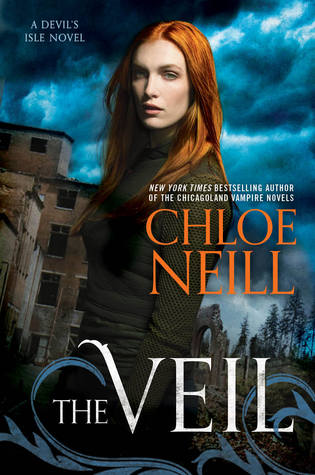 The Veil by Chloe Neill
Series: Devil's Island #1
Published by NAL Trade on August 4, 2015
Genres: Contemporary, Fantasy
Pages: 336
Source: Netgalley
Goodreads


Amazon •
Seven years ago, the Veil that separates humanity from what lies beyond was torn apart, and New Orleans was engulfed in a supernatural war. Now, those with paranormal powers have been confined in a walled community that humans call the District. Those who live there call it Devil's Isle.

Claire Connolly is a good girl with a dangerous secret: she's a Sensitive, a human endowed with magic that seeped through the Veil. Claire knows that revealing her skills would mean being confined to Devil's Isle. Unfortunately, hiding her power has left her untrained and unfocused.

Liam Quinn knows from experience that magic makes monsters of the weak, and he has no time for a Sensitive with no control of her own strength. But when he sees Claire using her powers to save a human under attack—in full view of the French Quarter—Liam decides to bring her to Devil's Isle and the teacher she needs, even though getting her out of his way isn't the same as keeping her out of his head.

But when the Veil threatens to shatter completely, Claire and Liam must work together to stop it, or else New Orleans will burn…
I liked this book. It was a start to a series. As such there is a lot of world building which I really liked. I picked up this book because I really liked the idea of this post war zone New Orleans. I felt like at times there was just too much build up and not enough action. There times I was really engrossed in the story and at other times I it was just meh. That is why I am giving The Veil three stars because it was just an okay and shrug kind of read.
The story begins several years after the paranormals that live in beyond called The Veil broke through the wall and declared war on humans. Claire, the main character, is living in the aftermath just trying to run her store. Now the government has outlawed magic and the paranormals and sensitives fear being locked into The Zone. Think determent camps like they used during World War II. It is not just paranormals from The Veil that have to live in fear of being locked up. The magic from The Veil has bled into the human world and infects people with magic. The human users are called Sensitives. Sensitives can turn into magic hungry Wraiths so the Sensitives also live in fear of being locked away into The Zone. Claire is one of these Sensitives and she gets on the government's radar when she fights off a wraith attack on her own. That leads her to bounty hunter and actually wants to help her. Claire must help him because wraith attack are on the rise and the paranormals are getting restless. Some paranormals believe the war is not over it was just paused and they will stop at nothing to tear the wall back open. I liked the world and the story and of course some of the action scenes. The Veil was one those books that beginning was full of action. The middle was kind of lack luster and I had to make myself go back to it. By the end, I was hooked on the story again. It was the start of a series so there is a lot set up getting the world and characters into place so parts of the book were kind of tedious. Overall, I liked The Veil and I am looking forward to more adventures in this world because as long as there paranormals on Earth there will always be those few that still want to win the war. It will be up to Claire and friends to stop them.