I received this book for free from Edelweiss in exchange for an honest review. This does not affect my opinion of the book or the content of my review.
This review contains spoilers. Read at your own risk.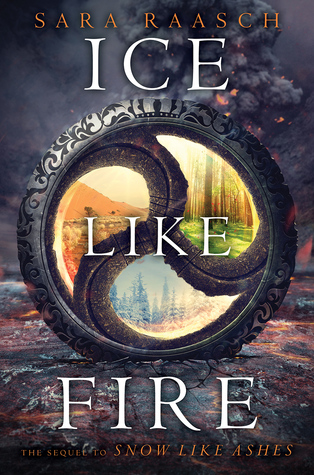 Ice Like Fire by Sara Raasch
Series: Snow Like Ashes #2
Published by Balzer + Bray on October 13, 2015
Genres: Fantasy, Young Adult
Pages: 479
Source: Edelweiss
Goodreads


Amazon •
It's been three months since the Winterians were freed and Spring's king, Angra, disappeared—thanks largely to the help of Cordell.

Meira just wants her people to be safe. When Cordellan debt forces the Winterians to dig their mines for payment, they unearth something powerful and possibly dangerous: Primoria's lost chasm of magic. Theron sees this find as an opportunity—with this much magic, the world can finally stand against threats like Angra. But Meira fears the danger the chasm poses—the last time the world had access to so much magic, it spawned the Decay. So when the king of Cordell orders the two on a mission across the kingdoms of Primoria to discover the chasm's secrets, Meira plans to use the trip to garner support to keep the chasm shut and Winter safe—even if it means clashing with Theron. But can she do so without endangering the people she loves?

Mather just wants to be free. The horrors inflicted on the Winterians hang fresh and raw in Januari—leaving Winter vulnerable to Cordell's growing oppression. When Meira leaves to search for allies, he decides to take Winter's security into his own hands. Can he rebuild his broken kingdom and protect them from new threats?

As the web of power and deception weaves tighter, Theron fights for magic, Mather fights for freedom—and Meira starts to wonder if she should be fighting not just for Winter, but for the world.
I really liked the first book in this series, Snow Like Ashes. I liked the tension between Meria and her two potential loves. I liked that love was on a back burner to the real issues that Meria was dealing with, saving her people and restoring her kingdom. Snow Like Ashes was filled with intrigue and so much action that I read the book in one day. I have to say Ice Like Fire just lacked the fire that made me fall in so much like, like I did with Snow Like Ashes. I didn't hate Ice Like Fire it was interesting toward the end. It was in the last 20% of the story that everything takes off, or falls apart you could say. It is everything leading up to this point in the story that just feels like filler and the emo ramblings of two heartsick teenagers. I have to give Ice Like Fire 3.5 because while parts of the book where action packed most of it was meh.
Ice Like Fire picks up with Meria now the queen of Winter. The king of Cordell, Noam, is still in Winter because he wants access to the chasm of magic that is hiding somewhere in the lands of Winter. It has been months of searching but nothing has been found yet. Meanwhile, Meria is still mulling over what is best for people and all that jazz. Then one day the chasm is found but, of course, it takes keys to open it. Those keys are hidden in the other kingdoms across the world. Meria has to go on a traveling expedition to search for the keys under the guise of diplomacy.
I get why Meria has to leave and I liked the exploration of the other kingdoms. One thing I have always liked about this series is the world building. The description of the people down to the kind of fashion each kingdom wears was so detailed I could see it all so clear in my head. I didn't really care for the duel narration actually. The story is told from Meria's first person POV and Mather's third person POV. I get why it was done to show what was going on in Winter while Meria was gone. I thought Mather's POV was all kinds of annoying and very very very emo. I get that his world has been turned upside down and so has Meria's and they are both trying to come to terms with the new roles they are now playing. Mostly, the story was just a bunch, "I don't know if I will ever be good enough," ramblings on and on they went.
I thought it was bit predictable. If scary movies or heck even Harry Potter has taught us anything, it is that the bad guy is never dead until the very end. I wasn't surprised by the ending even the twist with someone who was supposed to be close to Meria. I did think the ending was action packed even if I did have to go through a lot of rambling to get there. I am now so invested in Meria's tale that I will definitely be picking up the next book in the series.