I received this book for free from Netgalley in exchange for an honest review. This does not affect my opinion of the book or the content of my review.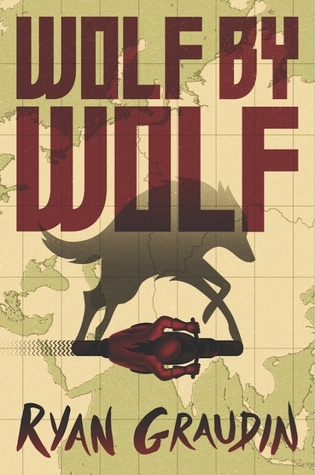 Wolf by Wolf by Ryan Graudin
Series: Wolf by Wolf #2
Published by Little Brown Books for Young Readers on October 20, 2015
Genres: Alternate History, Young Adult
Pages: 400
Source: Netgalley
Goodreads


Amazon •
Code Name Verity meets Inglourious Basterds in this fast-paced novel from the author of The Walled City.

The year is 1956, and the Axis powers of the Third Reich and Imperial Japan rule the world. To commemorate their Great Victory over Britain and Russia, Hitler and Emperor Hirohito host the Axis Tour: an annual motorcycle race across their conjoined continents. The victor is awarded an audience with the highly reclusive Adolf Hitler at the Victor's ball.

Yael, who escaped from a death camp, has one goal: Win the race and kill Hitler. A survivor of painful human experimentation, Yael has the power to skinshift and must complete her mission by impersonating last year's only female victor, Adele Wolfe. This deception becomes more difficult when Felix, Adele twin's brother, and Luka, her former love interest, enter the race and watch Yael's every move. But as Yael begins to get closer to the other competitors, can she bring herself to be as ruthless as she needs to be to avoid discovery and complete her mission?
I read this book as part of the Dewey's 24hr readathon. Wolf by Wolf is so fascinating that it didn't feel like I was reading it as part of a challenge. It was easy to read this book in one day. I love the question the author says she asked herself, the afterward, on coming up with this book's concept, "What if…?" What if, is definitely what Wolf by Wolf is all about. What if Germany and Japan won the WWII? What if Third Reich ruled most of Eastern Hemisphere? Therefore, Hitler would need to die.
I think most of us have seen The X-Files or Indiana Jones movies. We know that Nazis have come up with some despicable experiments in not just those worlds but in reality as well. So, it came as no shock in the alternate reality of Wolf by Wolf the Nazis are up to no good. Damn the collateral damage that gets in the way of progress. In Wolf by Wolf Yael is a young Jewish girl taken to a concentration camp and put into the care the doctor they call, Dr. Death. Yael is experimented on until she becomes something else entirely, a skin shifter. Fast forward some years later, the war is over, Hitler rules the land, and Yael has joined a resistance group. Now, Yael is going to change into Adele Wolfe, the only female racer to win The Axis Tour, and win the race and kill Hitler. Or at least that is her plan. Yael can mimic cosmetic characteristics she can't mimic personalities or know every single little detail of Adele's life. Yael's plan goes awry when she discovers Adele's brother Felix is racing and that Adele has a past with one of the racers.
I liked Wolf by Wolf because it is such terrifying concept. What if the Allies lost WWII? Now the Axis powers rule all of Europe, Asia and some of Africa. What if the concentration camps still existed? It is a scary concept to think of whole cities emptied out and sent to camps so the Ayran way can make through. It isn't just Jewish people being rounded up. It is all people of different religions, race and even sexual orientation. I don't know about most people but to live your life in constant fear is the most terrifying experience of all. I really liked how this reality was terrifying and believable at the same time. A story about a girl that can shift into anybody she wants to look like and has a plan to kill one the most terrifying dictators in modern history sounds kind of far-fetched. But it isn't that far-fetched to think they might have created humans that could skin shift. Because, we all know those pesky Nazis did all kind of experiments to obtain any kind of advantage they could think of and the more outrageous the better.
I found this story very moving and full of hope. Yes, it was tragic especially when the story would shift back into Yael's memories growing up. It is easy to see why Yael has become the weapon she was always designed to be. Wolf by Wolf is an exciting, heartbreaking, gut wrenching read. I really could not put this down. The best way to describe Wolf by Wolf is alternate WWII ending meets The Amazing Race. What better way to explore the terrifying world of this story then by traveling thousands of kilometers on a motorcycle to win a race with a blood thirsty goal at the end. I was thrown by the ending but not surprised and so I can't wait to read the next story in Yael's journey.  I am giving Wolf by Wolf by four stars because it is just that good.