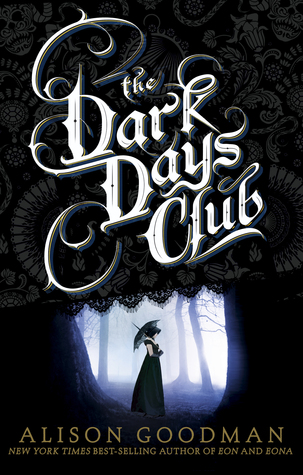 The Dark Days Club by Alison Goodman
Series: Lady Helen #1
Published by Viking Juvenille on January 26, 2016
Genres: Paranormal, Regency
Pages: 496
Source: Purchase
Goodreads


Amazon •
London, April 1812. On the eve of eighteen-year-old Lady Helen Wrexhall's presentation to the queen, one of her family's housemaids disappears-and Helen is drawn into the shadows of Regency London. There, she meets Lord Carlston, one of the few who can stop the perpetrators: a cabal of demons infiltrating every level of society. Dare she ask for his help, when his reputation is almost as black as his lingering eyes? And will her intelligence and headstrong curiosity wind up leading them into a death trap?
I grew up on Regency era romance novels and YA supernatural thrillers. When I saw the description for The Dark Days Club I was like, "Yes, Please!" The Dark Days Club combines two of my favorite things a supernatural thriller set in Regency England.
The Dark Days is about a young woman who has just come out in high society and is in her first season. Lady Helen thinks her first season will be just like all the other young women who have come before her. Meaning it will be filled with balls, promenades in Hyde Park, and, of course, the main purpose of a season husband hunting. Lady Helen is not like the other young women in society. Lady Helen can see the essence of demons and has the strength of two men. Lady Helen is part of a long lineage of demon hunters. Lady Helen has to make a decision to marry and settle down or to become a part of The Dark Days Club.
I really think the author tried to capture some of the authentic qualities about the Regency era while still giving the story a fantastical element. Demon hunting, dances at Almacks, and dashing lords, oh my. The best thing I can say about The Dark Days club was that it was so fun to read. I liked that the main point of the story is about young woman trying to decide if she wants to break the mold set for her. I am know how lucky I am to be a woman in the modern era. I have to give Lady Helen props for wanting something more in a society where a woman should be seen and not heard. I think this story was a really good start to a series that I can't wait to read more. I am dying to know what adventures Lady Helen finds herself in next.