I received this book for free from Edelweiss in exchange for an honest review. This does not affect my opinion of the book or the content of my review.
Remembrance by Meg Cabot
Series: The Mediator #7
Published by William Morrow on February 2, 2016
Genres: Mystery, Paranormal
Pages: 400
Source: Edelweiss
Goodreads


Amazon •
Fifteen years after the release of the first Mediator novel, #1 New York Times bestselling author Meg Cabot returns with a deliciously sexy new entry to a fan-favorite series. Suze Simon—all grown up and engaged to her once-ghostly soulmate—faces a vengeful spirit and an old enemy bent on ending Suze's wedded bliss before it begins.

You can take the boy out of the darkness.

But you can't take the darkness out of the boy.

All Susannah Simon wants is to make a good impression at her first job since graduating from college (and since becoming engaged to Dr. Jesse de Silva).

But when she's hired as a guidance counselor at her alma mater, she stumbles across a decade-old murder, and soon ancient history isn't all that's coming back to haunt her. Old ghosts as well as new ones are coming out of the woodwork, some to test her, some to vex her, and it isn't only because she's a mediator, gifted with second sight.

From a sophomore haunted by the murderous specter of a child, to ghosts of a very different kind—including Paul Slater, Suze's ex, who shows up to make a bargain Suze is certain must have come from the Devil himself—Suze isn't sure she'll make it through the semester, let alone to her wedding night.

Suze is used to striking first and asking questions later. But what happens when ghosts from her past—including one she found nearly impossible to resist—strike first?

What happens when old ghosts come back to haunt you?

If you're a mediator, you might have to kick a little ass.
I admit the first time I read The Mediator series I was not officially a teen but I was close enough to it. I freaking loved this series. I love Suze and Jesse. I love the Suze and her wacky ghost adventures. I can remember when the sixth book came out, my friend and I went to the book store that day. Then I proceeded to re-read the entire series because I wanted it all fresh when I got to what I thought would be the last book in one weekend. When I saw there would basically be a reunion story set six years after Susannah graduated high school, I was like sign me up. I am excited for all these reunion stories. If Gilmore Girls can do it then so can Meg Cabot for The Mediator series. We all know our favorite ships end with a happily ever after but it doesn't hurt to see it or get it in writing years later. Knowing these things for sure makes me oh so happy!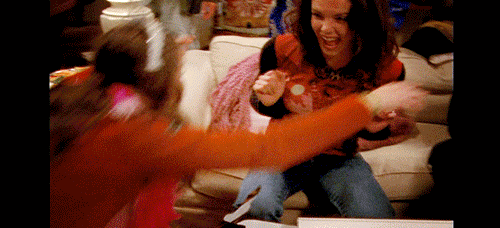 Susannah and Jesse are together. Big surprise. Suze is now finishing up a degree in child counselling and Jesse is well on his way to becoming a medical doctor. Susannah is also working as intern at her old high school. On one fateful day Susannah gets a call from her old mediator nemesis Paul. Paul tells her that he bought her old house and if they bull doze it down it will release a curse that could affect her finance Jesse. If you have read the prior books then you already know why this could be bad for Jesse because of what he used to be. On this same day, she treats a student for cutting herself and finds out the student is haunted by a scared and sometimes over reacting ghost child. That is how Susannah finds herself taking a walk down memory lane while solving the case of the holy terror ghost child.
I could not get enough of this book. It was like attending a family reunion. Everyone you love is there and some people that you could live without. I highly enjoyed seeing how everyone turned out. Susannah step brothers are thriving. Her brother Brad has triplets. Those girls are a riot. The scene in the hospital waiting room had me rolling. Remembrance was fun, wacky, and everything mediator. Of course, who wouldn't want to see it in print when the ship I was shipping for so hard finally ties the knot? I could not keep the big grin off my face as I read this book because it was just that good. Suze may be all grown up but I like that she is just as zany, crazy, and a force of nature that she always was. If you are like me and are a die-hard fan of The Mediator series then read this book!