I received this book for free from Audible, Netgalley, Purchase in exchange for an honest review. This does not affect my opinion of the book or the content of my review.
Into the Dim by Janet B. Taylor
Series: Into the Dim #1
Published by HMH Books for Young Readers on March 1, 2016
Genres: Fantasy, Young Adult
Pages: 432
Source: Audible, Netgalley, Purchase
Goodreads


Amazon •
Being "the homeschooled girl," in a small town, Hope Walton's crippling phobias and photographic memory don't help her fit in with her adoptive dad's perfectly blonde Southern family. But when her mother is killed in a natural disaster thousands of miles from home, Hope's secluded world crumbles. After an aunt she's never met invites her to spend the summer in Scotland, Hope discovers that her mother was more than a brilliant academic. She's a member of a secret society of time travelers, and is actually trapped in the twelfth century in the age of King Henry II and Eleanor of Aquitaine. Now Hope must conquer her numerous fears and travel back in time to help rescue her mother before she's lost for good. Along the way, she'll discover more family secrets, and a mysterious boy who could be vital to setting her mother free… or the key to Hope's undoing.
I got an E-ARC of Into the Dim but there are just not enough hours in the day; so I decided to buy the audiobook and listen to this book while I was at work. I am glad I did because I really really enjoyed Into the Dim. It was full action, romance, and of course, time travel. I can say I liked this book even more because it was narrated by one of my favorite audiobook narrators: Amanda Ronconi. For those who don't know who Amanda Ronconi is she narrates adult romance author Molly Harper's novels. I just love the way she makes the wit and sarcasm in a story pop. She really made Hope, Phoebe, and the rest of the cast come alive for me. I really like it when a good narrator and good story come together.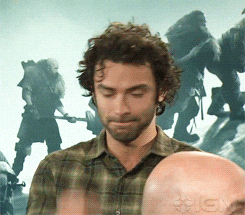 Into the Dim begins on the day of Hope's mother's memorial service. Hope is sent to stay with mother's sister for the summer because her dad feels like it would be best if she got away for a while. The story takes off from there, as Hope finds herself thrust into a world full of time travelers. Hope comes from a long line of time travelers and she discovers a secret about her mother that will test her in ways she never knew.
I know I said this earlier, I really enjoyed this story. It starts out a little slow but once it gets going the action never stops. I really liked Hope especially by the end. She was sarcastic, clueless, sometimes strong, and sometimes a cry baby. In other words, she felt like a real girl to me. She was definitely someone I could relate to. I think my favorite part is when she is trying to stop a fight and she tells the two boys to "stop being such buttholes to each other." I felt like her team member Collum in that at first she annoyed me but in the end I grew to really respect her.
I did learn a thing or two after listening to Into the Dim. I learned that when time travelling it is good to be prepared for any and everything. I learned that it is important to study history extensively as to blend in. Most important thing I learned is thank all that is good in this world for the Women's Liberation movement. I have even more respect for the women of the middle ages after finishing Into the Dim. I would not want to grow up in a time when men could do anything and I mean anything to women. I learned that as woman time travel is a dangerous endeavor. Even with all dangers we women of today would never let men have all the fun.
In the end, I recommend Into the Dim audiobook. Listen to it at work or in the car on those long commutes to work or school. It is a highly entertaining story. Here are just a few of things I liked about Into the Dim: awesome narrator, time travel, kissing, cute boys, nuns in wimples, suspense, action, and my favorite, spunky heroines. I can't wait to devour the next book!