I received this book for free from Audible, Edelweiss, Purchase in exchange for an honest review. This does not affect my opinion of the book or the content of my review.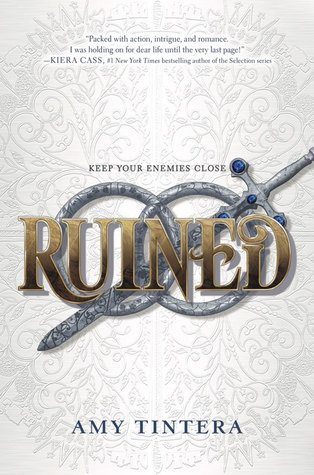 Ruined by Amy Tintera
Series: Ruined #1
Published by HarperTeen on May 3, 2016
Genres: Fantasy, Young Adult
Pages: 368
Source: Audible, Edelweiss, Purchase
Goodreads


Amazon •
Emelina Flores has nothing. Her home in Ruina has been ravaged by war. She lacks the powers of her fellow Ruined. Worst of all, she witnessed her parents' brutal murders and watched helplessly as her sister, Olivia, was kidnapped.

But because Em has nothing, she has nothing to lose. Driven by a blind desire for revenge, Em sets off on a dangerous journey to the enemy kingdom of Lera. Somewhere within Lera's borders, Em hopes to find Olivia. But in order to find her, Em must infiltrate the royal family.

In a brilliant, elaborate plan of deception and murder, Em marries Prince Casimir, next in line to take Lera's throne. If anyone in Lera discovers Em is not Casimir's true betrothed, Em will be executed on the spot. But it's the only way to salvage Em's kingdom and what is left of her family.

Em is determined to succeed, but the closer she gets to the prince, the more she questions her mission. Em's rage-filled heart begins to soften. But with her life—and her family—on the line, love could be Em's deadliest mistake.
I think this book is more of a 3.5 star kind of read but I have rounded up because I did like the ending so much. I listened to this audiobook and maybe things got lost in translation but it was hard for me get into it at first. I really had to power through. Let me say not because of the narrator, Emily Rankin does decent job making the story come alive. Once, I got to the middle of the book the rest of the story was addicting. I flew right through it.
Ruined isn't anything new in YA right now. It seems fantasy stories are the trend right now. Ruined is the start of a fantasy series about a girl looking to avenge the king and his kingdom that destroyed her kingdom. I have seen this plot everywhere and executed a million different ways. So, why is Ruined worth reading? It is an entertaining read, especially the last half. I liked that the author wasn't afraid to get her hands bloody so to speak.
Em is the pseudo leader to a race of people that are being hunted down. Ruined are a race of people gifted with God like magic. Many many years ago they ruled the land and enslaved the non-magical people. The people rose up and freed themselves. To this day the non-magical rulers fear and hunt the Ruined for fear they will one day rule the lands again. At first Em wants to rescue her sister and restore the power back to the Ruined. She comes up with a plan. Marry the Lera prince under false pretenses. Gain his trust and palace secrets to rescue her sister. Everything is going according to plan until it isn't. Em has no choice to run when all hell breaks loose. That is when the story really gets interesting.
Ruined starts off running and bam somebody is dead. Then the story slows down for world building and setting the story up. It was necessary but at the same time felt a little slow. I stuck with it and boy did it pay off. Because, middle of the book takes off like a rocket and I was hooked. There was kissing, there was running for lives, there was heads rolling. It was very action packed. I have to say I liked the very end. There is a question Em will have to ask herself. Is the possibility of peace impossible after so many years of hatred and hurt? I can't wait to find out what happens next.