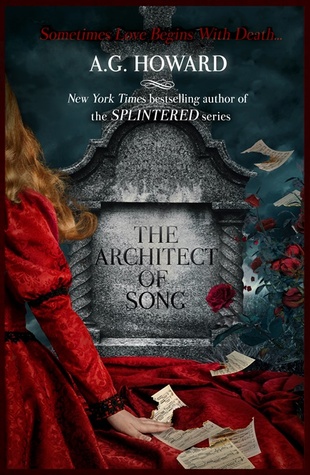 The Architect of Song by A. G. Howard
Series: Haunted Hearts Legacy #1
Published by Independent by Author on August 15, 2016
Genres: Historical, New Adult, Romance
Pages: 425
Source: Audible, Purchase
Goodreads


Amazon •
A lady imprisoned by deafness, an architect imprisoned by his past, and a ghost imprisoned within the petals of a flower - intertwine in this love story that transcends life and death.

For most of her life, nineteen-year-old Juliet Emerline has subsisted – isolated by deafness – making hats in the solitude of her home. Now, she's at risk to lose her sanctuary to Lord Nicolas Thornton, a twenty-seven-year-old mysterious and eccentric architect with designs on her humble estate. When she secretly witnesses him raging beside a grave, Juliet investigates, finding the name "Hawk" on the headstone and an unusual flower at the base. The moment Juliet touches the petals, a young English nobleman appears in ghostly form, singing a song only her deaf ears can hear. The ghost remembers nothing of his identity or death, other than the one name that haunts his afterlife: Thornton.

To avenge her ghostly companion and save her estate, Juliet pushes aside her fear of society and travels to Lord Thornton's secluded holiday resort, posing as a hat maker in one of his boutiques. There, she finds herself questioning who to trust: the architect of flesh and bones who can relate to her through romantic gestures, heartfelt notes, and sensual touches … or the specter who serenades her with beautiful songs and ardent words, touching her mind and soul like no other man ever can. As sinister truths behind Lord Thornton's interest in her estate and his tie to Hawk come to light, Juliet is lured into a web of secrets. But it's too late for escape, and the tragic love taking seed in her heart will alter her silent world forever.

International and NYT bestselling author, A.G. Howard, brings her darkly magical and visual/visceral storytelling to Victorian England. The Architect of Song is the first installment in her lush and romantic Haunted Hearts Legacy series, a four book gothic saga following the generations of one family as - haunted by both literal and figurative ghosts - they search for self-acceptance, love, and happiness.


I am big fan of A.G. Howard's Splintered Series. When I saw The Architect of Song was now available on audiobook I bought it and started listening to it right then. I was not disappointed by this audiobook. I really enjoy a good audiobook that can distract me from the frustrations of say traffic while I am driving in my car. It is definitely the type of audiobook that is a great escape from the monotony of my day. The Architect of Song is a gothic romance that swept me right up into the story and I enjoyed every minute of it.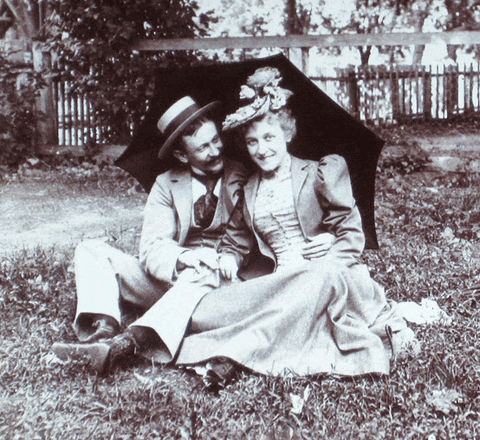 The Architect of Song is about Juliette a deaf young woman living with the grief of her mother's death. Then one day Juliette steals a flower from a grave and takes it home. Upon touching the petals of the flower a ghost appears. Juliette is not scared of her ghost she is intrigued by him and actually feels for compassion for the lost spirit who has appeared to her. Unfortunately, Hawk, the ghost, doesn't remember anything about himself or how he died. He just knows that there is something he must do. Juliette sets out with the help her ghost to solve the mystery of his death and right the wrongs done to him. Along, the way Juliette discovers that her ghost is the twin brother of the Viscount determined to woo her. Juliette finds herself torn between the brothers one very much alive and the other a ghost she can never be with.
I liked this book because I am actually a sucker for Victorian romances. I enjoy reading about the ladies of the past who came before me. These women who pushed the boundaries of their societal restrictions. Juliette is a deaf woman living in a time that is already tough to be a woman but she has fight the prejudices of her disability. I admired Juliette because being deaf is just an aspect of her but not who she is. She is a beautiful, head strong, compassionate woman who loves with her whole heart. For, those reasons I felt like I could connect with Juliette and understand why she loves two men but for different reasons.
I liked the mystery aspect of this book because I felt I never trust anybody. There were times this book was super creepy. There were times when my heart was breaking because I was like no don't let it be true. The romance was of course my favorite part because Juliette chemistry with Chaine the living brother was off the charts. There were a few times I had to fan my face it just that sexy.
I thought the narrator, Gemma Dawson, only added to the drama and romance of the story. I enjoyed how she helped make the story come to life for me. The Architect of Song is a story that grabbed me up because it was a story about choosing life over death. Dying that is the easy part it is the living that is hard. That is what makes this story so beautiful because there is a strength in continuing to live day to day.