I received this book for free from Publisher in exchange for an honest review. This does not affect my opinion of the book or the content of my review.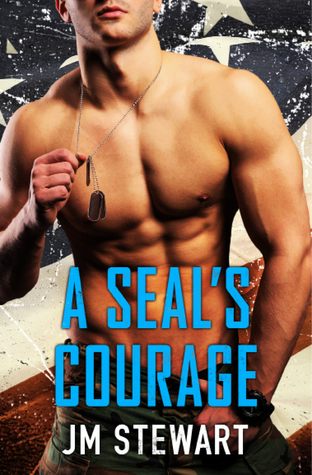 A Seal's Courage by J.M. Stewart
Series: Military Match #1
Published by Forever on July 11, 2017
Genres: Contemporary, Romance
Pages: 240
Source: Publisher
Goodreads


Amazon •
A sizzling new series about three friends looking for love-and the sexy SEALs who are ready to fulfill their craziest fantasies.



He's a man on a mission.
Navy SEAL Trent Lawson isn't a man to back down from a challenge. Ever since he opened his eyes in that army hospital to learn the men from his unit were gone, Trent has been determined to live life in their honor. Even if that means facing his most terrifying mission yet . . . dating.

She's done playing games.
Lauren Hayes has standards. In fact, she's got an entire list of them. There's only ever been one man to come close to making the cut-Trent Lawson. Except her best friend's too-sexy-for-his-own-good brother is strictly off-limits.

When Trent and Lauren find themselves matched up by a dating service, the chemistry between them is nothing short of explosive. They both know getting involved is a huge mistake, but life is too short to walk away from something this good.
A Seal's Courage is a story about a wounded ex-Navy Seal finding the courage to open his heart and love again. Trent is so scared to love again because his ex-wife couldn't deal with the man he had become after he came home from war. Tragedy changes a person. I could only imagine what kind of mental and physical changes can occur after a tragedy in a war zone. There are the kind of scars that you can see and the kind of scars you can't see. Sometimes the scars a person can't see are the ones that never truly heal or leave the most lasting effects. I would think it would be hard for somebody with the kind of unseen scars war can leave to get back to the person they were before. This is why I liked Lauren because knew Trent before he left for war. Because, he is her best friend's older brother. She also knows the man he is now. Deep down she knows he is the same man as was before. It is easy for Trent to get lost to in the memories. Sometimes he doesn't sleep at night because the nightmares won't leave him alone. The man he is now requires just a little extra patience.
Lauren is a woman who sometimes doesn't sleep because the bone deep loneliness keeps her awake at night. Lauren knows what is like have tragedy strike. She lost her mother when she was young. The woman who took in and raised her was an older woman and has since passed. Lauren has friends but she wants a family of her own. Deep down she doesn't want to settle. This is what, I liked about Lauren it was her patience to wait for the type of man she deserved. I know how easy it is settle for Mr. Right Now. I also liked that Lauren had backbone to go after what she wants. So, Lauren and Travis strike a deal, one month of seeing each and then they call it quits. I don't have to tell you what happens from here because if you have read a romance then you already know. I will say liked their connection to each other. Since, they already had all this back history this was one time when I was glad things sped right along. Things sped right along into sexyville and it was HOT.
I found it refreshing that there was none of that we have to hide because the sibling won't understand crap. My favorite scene was when Travis removes his shirt for the first time. He is nervous how Lauren will react when she sees his scrap metal scars and burn scars that cover his torso for the first time. I thought that scene was endearing because men especially ex-military men have these expectations to be tough all the time. It was nice to see the man in this story show vulnerability especially about his body. I think sometimes it easy to forget as women, that men can also be insecure about their bodies.
In the end, I did like A Seal's Courage. It was a quick simple romance about two people finding the love and acceptance they deserve. Sometimes risking your heart takes more courage than facing down an army of unknown enemies.